Mark Labarbera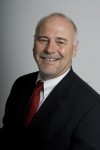 When I first arrived in Northwest Indiana, I thought of Valparaiso University in terms of my thinking about the School of Mines in Rapid City, S.D. I am not sure 100 percent what all they do, but I know it is good stuff turning out good kids. That's been changing since VU President Mark Heck…

I am disappointed that John Doherty would choose to write a column about our game management procedures without talking with me or any members of the Valparaiso University athletics department to find out what severe weather policy we had in place had the weather taken a turn for the worse.  

Mark LaBarbera is Valparaiso University's athletics director.

Poll
Loading…
Should all units of local government join the Shared Ethics Advisory Commission?