Mark Yagelski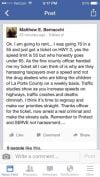 A member of the LaPorte County Council blasted a county police officer on Facebook for a speeding ticket he received, and later removed the post and replaced it with an apology.
MICHIGAN CITY | An electric motor repair company in Michigan City plans to invest $1 million to expand operations, adding 14 new jobs.

Poll
Loading…
Should Indiana have kept the Common Core standards for K-12 instruction?