Matthew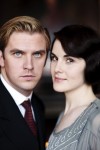 There are many delicious reasons to watch the returning "Downton Abbey" and an exasperating one to skip it: The cover's been blown on major plot twists.
Matthew, 3, and Nathan Hillis, 4, of Homewood visit the Oscar Mayer Wienermobile on Saturday at Homewood's Dog Days of Summer event at Irwin Park.

Poll
Loading…
Do you agree with the administrative merger of Purdue University's Hammond and Westville operations?