Meadowbrook Girl Scout Camp
VALPARAISO | The spring flowers welcomed visitors along the trails at the Meadowbrook Conservation Center and Preserve during Sunday afternoon's open house, as the Shirley Heinze Land Trust welcomed guests as well.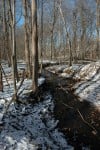 VALPARAISO | Shirley Heinze Land Trust has purchased the former Meadowbrook Girl Scout Camp in Liberty Township, north of Valparaiso.

Poll
Loading…
Should Winfield hire a town marshal and deputies?