Meatloaf

Last week, my parents joined me when I was invited to speak at a luncheon event for First United Methodist Church in Valparaiso.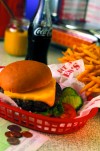 Phil Potempa's daily entertainment news column.

Mmmm...meatloaf. There might be an occasional soul who has had a bad experience with meatloaf via a school cafeteria, but I'd venture to say that many more people have a love for the savory, hearty dish than don't.
Poll
Loading…
Should Indiana switch to open primary elections?