Midwestern Collegiate Conference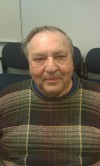 Anyone who knows about the lore of Hoosier Hysteria knows about tiny Milan's upset of Muncie Central in the 1954 Indiana state basketball championship at Butler (now Hinkle) Fieldhouse.

Hunter Atkins still has the basketball when he scored 50 points against Lake Central in 1987.

Poll
Loading…
Will you be glad to see bus service restored in Hammond?