Milwaukee Bucks

WEST LAFAYETTE | You didn't stop Glenn Robinson at Roosevelt, Purdue or in his 11 NBA seasons.

Bob Stephens made sure his runners developed a rhythm.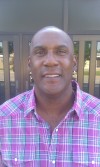 Lloyd Walton still gets in players' faces, but it is not because the former Mount Carmel and Marquette University basketball star is playing tough defense.

Poll
Loading…
Has your family been affected by drug abuse?