Monkey

Our monthly round-up of new children's media.

Kohl's Cares, $5, Ages 3 and up"The Curious George Collection" by Margaret and H.A. Rey, books and plush toys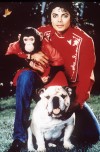 Michael Jackson is seen in this undated photo with his pet chimp Bubbles and a bulldog.

Poll
Loading…
Should Indiana have kept the Common Core standards for K-12 instruction?