Munster Teachers Association
It's not unusual to hear students griping about the ISTEP, but when educators are complaining as well, it's time to take notice.

The outlook for K-12 education might be a bit murky as educators across the state wait for new state education leader Glenda Ritz to set her agenda.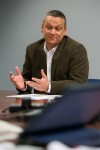 Indiana's top education official, Tony Bennett, made it crystal clear he supports legislation that limits teacher collective bargaining to wages and wage-related fringe benefits.

Most Popular
Poll
Loading…
Should Porter County Auditor Bob Wichlinski adjust wages to reflect cross-training in his streamlined office?