National Center For Education Statistics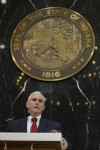 Indiana Gov. Mike Pence's State of the State address Tuesday focused on job creation and education, two intertwined subjects. Both require significant attention.

A new study of the American family's "passion points" from Just Kids, Inc. reveals that most families (45 percent) agree schools and education are their top priority.

Poll
Loading…
Should Porter County Auditor Bob Wichlinski adjust wages to reflect cross-training in his streamlined office?