National Walking Day

Under a sunny blue sky early Wednesday afternoon, 116 ArcelorMittal Burns Harbor workers traversed a hilly, muddy and sometimes sandy path on a mile-long loop through a patch of woods on company property.

ArcelorMittal employees and community members took to the streets Wednesday for National Walking Day.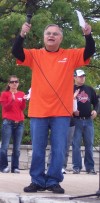 BURNS HARBOR | National Walking Day, a nationwide call to action for Americans to adopt a healthy lifestyle, takes place on Wednesday and ArcelorMittal is promoting the day among its employees at four facilities in the region through "Walk Around The Block" events.

Poll
Loading…
Should Winfield hire a town marshal and deputies?