Natural Resources

INDIANAPOLIS | Gov. Mike Pence is certain reducing Indiana's personal income tax rate will create jobs, despite the doubts of legislative leaders and the increase in unemployment that followed distribution of the state's automatic taxpayer refund.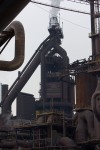 ArcelorMittal USA Inc. will pay a Cleveland-based mining company at least $250 million to settle disputes on iron ore supply contracts.

Poll
Loading…
Are you content to let the courts rule on the fate of same-sex marriage?