Normandy

While cleaning my room a while back, I came across my journal. I'd like to share an entry dated June 6, 2012:

This past spring, I was studying abroad. For four months, I called Cannes, France, home. It was the best decision I've made.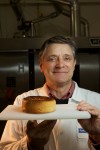 Far from his home in Normandy, Francois Capt, a fourth generation cheese maker, continues the traditions handed down to him from his family. Capt, whose father, grandfather and great-grandfather specialized in making Comté, a French cheese first made in the 1100s, brought the skills of craft…

Poll
Loading…
Will you be glad to see bus service restored in Hammond?