Occupational Licensing

INDIANAPOLIS | Ignoring data showing that Indiana's decade of trickle-down prosperity policies haven't improved the income, health or quality of life for most Hoosiers, Gov. Mike Pence promised Thursday to deliver still more business-centered programs in the upcoming legislative session.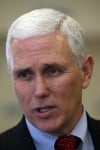 INDIANAPOLIS | Gov. Mike Pence has a simple explanation for why he's not hanging around the Statehouse while the Indiana General Assembly is in session – it's jobs.

Most Popular
Poll
Loading…
Should Porter County Auditor Bob Wichlinski adjust wages to reflect cross-training in his streamlined office?