Panels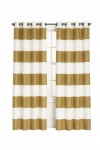 Bold ivory and gold stripe Aston curtains from Crate and Barrel are shown. Available also in ivory and graphite, the curtains were in the top trend category for 2012.

Let prospetive home buyers see for themselves that solar installations need not detract from the appearanc of a home. The DeSantis home in Milton, Massachusetts, sports an 8.4-kilowatt solar electric (photovoltaic or PV) system manufactured by Evergreen Solar of Marlboro, Massachusetts, and …

The 2.04-kilowatt grid-tied solar electric (photovoltaic or PV) system on the Edwards home in Colorado generates clean, carbon-free electricity. Generous utility and government rebates make PV systems affordable for many homeowners and builders in Colorado. Namaste Solar Electric of Boulder,…

Poll
Loading…
Should Porter County Auditor Bob Wichlinski adjust wages to reflect cross-training in his streamlined office?