Peppermint Food Creme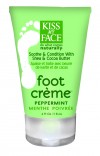 Peppermint Foot Crème is another natural, effective and cruelty-free tested product by Kiss My Face. The peppermint oil stimulates the skin and the cocoa, shea and mango butters are the ingredients that smooth and soothe. It sells for $8.95 in stores like Whole Foods or at kissmyface.com.

Poll
Loading…
Should Winfield hire a town marshal and deputies?