Porkfest

Kouts | When gourmet chocolate and cheesecake-maker Jayne Baker heard about the Hammie Award at the annual Kouts Pork Fest, she knew what she had to do.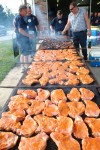 Where's the pork? You'll find pounds of it in Kouts on Saturday.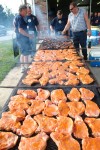 Prepare to celebrate what's known as "the other white meat"  food fans.

Most Popular
Poll
Loading…
Are you content to let the courts rule on the fate of same-sex marriage?