Potage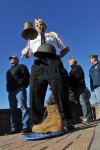 Ron Jackson, Junior Vice Commander of VFW 5365 in Hobart, rings a bell honoring each solider after their names were read Monday afternoon at Gilbert Park in Portage.

A Marine honor guard at Gilbert Park gives a five-gun salute to recognize those who have fallen in the line of duty as Portage held its inaugural military memorial service Monday at Gilbert Park.

Poll
Loading…
Should Winfield hire a town marshal and deputies?