Prism

Quite frankly, if the National Security Agency tapped into my phone calls it would probably be listening in on little more than one of my parents accidentally butt-dialing me.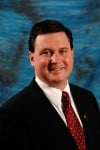 INDIANAPOLIS | U.S. Rep. Todd Rokita, R-Indianapolis, accused the National Security Agency Monday of violating constitutional protections against unlawful searches following disclosures the spy agency collected and stored the telephone and Internet records of all Americans.

Poll
Loading…
Will you be glad to see bus service restored in Hammond?