Puppy Mill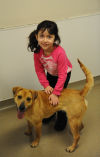 ST. JOHN | Dogs in the market for new homes and dog lovers crowded Saturday afternoon into Alsip Home and Nursery's pet section.
INDIANAPOLIS | A tool routinely used to shut down large dog breeding operations, sometimes called puppy mills, was scrutinized Thursday by the Indiana Supreme Court.
INDIANAPOLIS | A tool used by Indiana officials to shut down an illegal puppy mill has been disapproved by the Indiana Tax Court.

Most Popular
Poll
Loading…
Will you be glad to see bus service restored in Hammond?