Purdue Coach Matt Painter

MERRILLVILLE | Some say this college basketball recruiting business is getting ridiculous.

Boston Celtics' rookie E'Twaun Moore is trying to be the good soldier, so mum's the word game after game after game.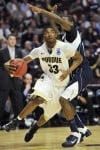 CHICAGO | E'Twaun Moore dared not focus on the NBA legend who was standing several feet away and following all the action on the court.

Poll
Loading…
Has your family been affected by drug abuse?