Quiche

After you've stuffed yourself with turkey and taters and gravy and pie and - of course - stuffing, you might be ready to do penance before the next rush of holiday calories.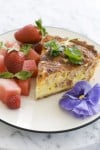 Quiche has a reputation as a complicated dish. And I'm not sure why.
Poll
Loading…
Should every unit of local government ban nepotism?