Rash

Phil Potempa's daily entertainment news column.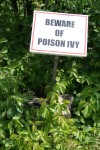 Beware of Poison Ivy. Know how to spot it, and what to do if you come in contact with it.

Walk away -- Poison Ivy is easy to spot once you learn to recognize its characteristic three leaves with notched edges. The plant usually grows as a ground cover or vine. Wear long pants, long sleeves, gloves and shoes that cover your feet when gardening. Summer is prime poison plant season,…
Poll
Loading…
Should Indiana switch to open primary elections?