Republican Victory Center

INDIANAPOLIS | A once-in-a-generation presidential candidate with a huge campaign cash advantage turned Indiana in 2008 from solidly Republican into a battleground state narrowly won by Democrat Barack Obama.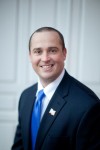 INDIANAPOLIS | After shaking hundreds of hands at the Lake County Fair last week, Republican Congressional candidate Joel Phelps knows for sure he's not the only region resident craving change in Washington, D.C.
Poll
Loading…
Should Indiana switch to open primary elections?