Rick Adelman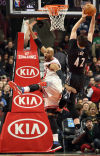 CHICAGO | The venerable Palace Grill, a city landmark for years located just up the street from the United Center, has a sign on the window that reads: Sorry, We're Open.

NEW YORK | Doc Rivers left home for the holiday, lost the game, and loved every minute of it.

WEST LAFAYETTE | Robbie Hummel would've loved to slip into a Purdue jersey at Saturday's alumni game. But the Valparaiso grad couldn't. His new "full-time" job as a member of the Minnesota Timberwolves forbids it.
Poll
Loading…
Should Indiana switch to open primary elections?