Rudolph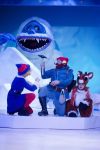 Michael Saguto is used to be busy this time of year helping audiences of all ages capture the stage spirit of the season.

Christmas carols can help your holiday mood, unless your office Muzak station just played "Feliz Navidad" for the 912th time in the past two hours. In that case, I understand if you are looking forward to reindeer steaks on Christmas Day.

Poll
Loading…
Should Winfield hire a town marshal and deputies?