Ryan Braun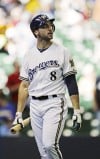 NEW YORK | Former National League MVP Ryan Braun was suspended without pay for the rest of the season and the postseason Monday in the first penalty of baseball's investigation of players reportedly tied to a Florida clinic accused of distributing performance-enhancing drugs.
Amid the hysteria permeating Major League Baseball's Biogenesis scandal, the media largely continues to ignore the 600-pound gorilla sitting in the room.

MILWAUKEE | Reliever Kerry Wood had no margin for error when he entered in the eighth. It's been that way every game so far this season for the Cubs.

Poll
Loading…
Will you be glad to see bus service restored in Hammond?