Salutatorian

HAMMOND | As graduation nears, Bishop Noll Institute has named its class of 2014 top academic seniors. These students, each with a grade point average of 4.0 or higher due to weighted grades, receive the title and honor of Bishop Noll Graduate with Distinction.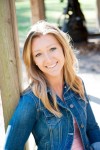 Illiana Christian High School student Kayla VanderWall enjoys using her talents to help those in need.
Poll
Loading…
Should every unit of local government ban nepotism?