Sammy Sosa
The Philadelphia Eagles want Brian Kelly as their new coach. Alas, Notre Dame football is doomed.

NEW YORK | The most polarizing Hall of Fame debate since Pete Rose will now be decided by the baseball shrine's voters: Do Barry Bonds, Roger Clemens and Sammy Sosa belong in Cooperstown despite drug allegations that tainted their huge numbers?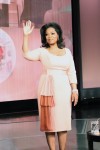 If you missed Oprah's teary May 25 finale, the talk-show queen has posted the entire transcript of the last "Oprah Winfrey Show" online at her website ( http://www.oprah.com/oprahshow/The-Oprah-Winfrey-Show-Finale_1/1).

Poll
Loading…
Should Winfield hire a town marshal and deputies?