Sancheon White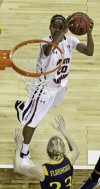 Sancheon White's NCAA career has sped by so fast, she's into her second and final tournament with South Carolina and learning from the experience of last year.

Sancheon White was so sure her first trip in the NCAA tournament would bring her home.

When basketball player Sancheon White graduated from Hammond High and headed out to find a school looking for her outside shot and inside game, she was hindered by her grades.

Most Popular
Poll
Loading…
Are you content to let the courts rule on the fate of same-sex marriage?