Sandburg High School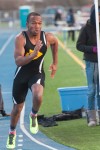 ORLAND PARK | Many things can go wrong in a 300-meter hurdle race. A runner can trip over a hurdle, run into the wrong lane on the curve, get a bad start, or fade at the finish.

Poll
Loading…
Will you be glad to see bus service restored in Hammond?