Sarah Paulson

Somehow, it's already been a year since we were wondering if "Argo" would sneak past "Silver Linings Playbook" to win Best Picture.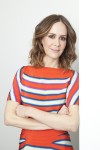 For those who get creeped out watching "American Horror Story: Asylum," don't worry. You're not alone. Sarah Paulson, one of its stars, says the show's dark and twisted story lines can unnerve her, too.
Poll
Loading…
Should every unit of local government ban nepotism?