School Bullying
I have some not-so-breaking news: Bullying still exists.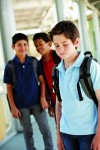 There are measures parents and caregivers can take to help identify the signs of bullying and the anxiety it can induce so they can help their children manage through this difficult situation.

Poll
Loading…
Has your family been affected by drug abuse?