Scratching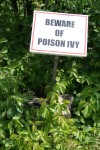 Beware of Poison Ivy. Know how to spot it, and what to do if you come in contact with it.

To help prevent mosquito bites, cover up. When outdoors, especially at dawn and dusk, wear fitted clothes that cover you and insect repellent with DEET.

Poll
Loading…
Has your family been affected by drug abuse?