Second Amendment To The United States Constitution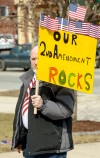 VALPARAISO | The price of liberty is to be eternally vigilant, William Morgan told those gathered Saturday at a Second Amendment support rally.
HOBART | Northern Indiana Patriots will show support for gun rights at an event from 9:30 a.m. to 11 p.m. today at Mundell Field, 2 N. Wisconsin St.
SPRINGFIELD | After the U.S. Supreme Court struck down a handgun ban in Chicago last year, lawmakers in Springfield started off the year by pushing to give people the right to carry concealed firearms in public.
Poll
Loading…
Should every unit of local government ban nepotism?