Shannon Doyle
UNION TWP. | Coming from any other player, Shannon Doyle's proclamation following Wheeler's four-game win over Whiting last week might have sounded a bit brash and cocky: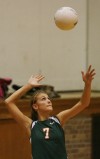 UNION TWP. | Coaching changes are just as much a part of high school athletics as pasta dinners and long road trips, and Shannon Doyle has had more than her fair share of all of them.

Poll
Loading…
Should Winfield hire a town marshal and deputies?