Snake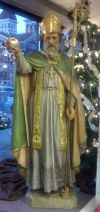 A statue representation of St. Patrick, attired in splendid robes and green cape, includes his staff in hand, with a snake coiled around the base.

Phil Potempa's daily entertainment news column.

Sandpiper Press, $26.99, Ages 1 to 3 "Mouse Count" by Ellen Stoll Walsh

Poll
Loading…
Has your family been affected by drug abuse?