South Bend Silver Hawks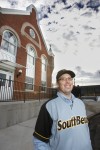 Twenty years after the synagogue closed, Andrew Berlin, chairman and CEO of Chicago-based Berlin Packaging, bought the Silver Hawks in November 2011. Berlin had a vision for turning the synagogue into a team store.
LAPORTE - Please welcome and patronize the following new members who have joined the Greater La Porte Chamber of Commerce in the fourth quarter of 2012: Keys Counseling, South Bend Silver Hawks, IVY Tech Corporate College-Gary, Eichhorn & Eichhorn Attorney at Law, and Tely's.

Poll
Loading…
Do you agree with the administrative merger of Purdue University's Hammond and Westville operations?