Southern Cooking

Bobby Deen is making his famous mom Paula Deen proud by adapting many of her most famous southern cooking signature dishes to be lighter and healthier with help from the Diabetes in a New Light Campaign.

Bobby Deen's meatless version of his mother Paula Deen's Cajun classic gumbo cuts down on the saturated fat and calories by replacing the meat with mushrooms and veggies and using a low sodium vegetable broth.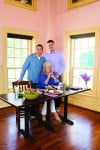 Mom Paula Deen has passed on her fun and flair for southern cooking to her sons Bobby (left) and Jamie, along with helping fine-tune some recent new options for a healthier spin on traditional menu favorites.

Poll
Loading…
Are you content to let the courts rule on the fate of same-sex marriage?