Sports Team Management Compensation

BERKELEY, Calif. | Last year, California catcher Chadd Krist turned down close to $50,000 to return for his senior season in college rather than sign with the White Sox as a 13th-round draft pick.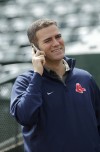 CHICAGO | The Cubs are still talking with the Boston Red Sox about compensation in a deal to bring general manager Theo Epstein to Chicago, a person familiar with the negotiations said Friday.

Poll
Loading…
Should Indiana have kept the Common Core standards for K-12 instruction?