Steve Pangere
Looking over the roster of business leaders that are on our list this issue, I couldn't help but notice the mix of well-known and lesser-known names as well as the diversity in ages, cultural background and gender. Learning about our top professionals impressed me even more with the flexibil…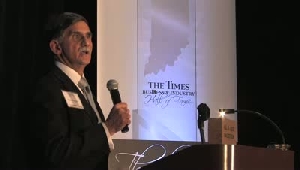 Steve Pangere is a 2012 inductee of the BusINess Hall of Fame.
We all know people with successful careers and we know that it is not automatic that their lives are successful too. Often success in life is achieved by giving back. The dedicated leaders we honor each year in our Business & Industry Hall of Fame have not only reached the top of their p…
Poll
Loading…
Should Indiana switch to open primary elections?