Subpoena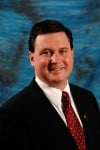 INDIANAPOLIS | U.S. Rep. Todd Rokita, R-Indianapolis, accused the National Security Agency Monday of violating constitutional protections against unlawful searches following disclosures the spy agency collected and stored the telephone and Internet records of all Americans.

INDIANAPOLIS | The U.S. Justice Department seizure of reporter telephone records likely would be a crime if Gov. Mike Pence had won passage of the federal media shield law he championed in Congress.

Most Popular
Poll
Loading…
Should Winfield hire a town marshal and deputies?