Synagogue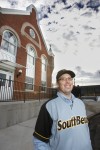 Twenty years after the synagogue closed, Andrew Berlin, chairman and CEO of Chicago-based Berlin Packaging, bought the Silver Hawks in November 2011. Berlin had a vision for turning the synagogue into a team store.
I agree with Larry Petersen that Phil Wieland invoked the bonehead bumper sticker to define the Indiana Senate committee who want alternative history taught in schools when he should be more understanding. Pandering to garner votes? They're more likely affirming their religious beliefs.

Poll
Loading…
Should Winfield hire a town marshal and deputies?