Tacos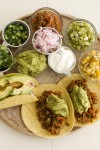 When salsa overtook ketchup as America's favorite condiment in the 1990s you had to know that "taco night" wasn't far behind.

An array of tiny Japanese-transformed taco varieties flood taste buds with flavor at Tokio Pub, the latest tapas concept restaurant in Chicagoland from Lettuce Entertain You Enterprises. Braised pork (top tray) and "angry chicken" (bottom left) and grilled steak (lower right) rank as dining …

Poll
Loading…
Should Porter County Auditor Bob Wichlinski adjust wages to reflect cross-training in his streamlined office?