Tajci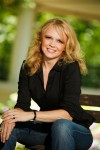 Croatian singer Tajci enthusiastically shares her musical gifts with the world as she regularly delivers spiritual tunes to audiences.

Croatian inspirational singer Tajci will perform her "I Thirst" concert experience at 7 p.m. Feb. 23 at Sacred Heart Croatian Church, 2864 E. 96th St., Chicago and at 2 p.m. Feb. 24 at St. John the Baptist Church in Whiting. Tajci and her sister Sanya will perform the special show highlighti…
Poll
Loading…
Should Indiana switch to open primary elections?