Tariffs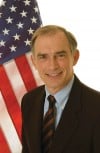 U.S. Rep. Pete Visclosky and Sen. Joe Donnelly testified before the U.S. International Trade Commission on Thursday in support of anti-dumping tariffs on hot-rolled steel products from China, India, Indonesia, Taiwan, Thailand and the Ukraine.
Our government wants to impose tariffs on Chinese imports. If the American consumer cared about American jobs, this would not be necessary.
Read Thomas Jefferson Jefferson or James Madison's diary of the Constitution debates. The Founders said, how do you pay for the republic?

Poll
Loading…
Should Indiana have kept the Common Core standards for K-12 instruction?