Taylor University

Tim Sumner still recalls working summers at Inland Steel as a laborer.
Congratulations and best of luck to the Class of 2012. Even with a degree in hand, they'll need it.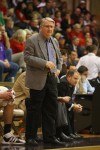 Paul Patterson's No. 1 priority has never been to just win basketball games.

Poll
Loading…
Has your family been affected by drug abuse?