The Cardinals

LAKE FOREST, Ill. | On the surface, this would seem like an easy one for the Bears. They're trying to get back to winning against a team that hasn't won a game all season.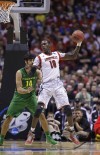 CHICAGO | It's been five years since the Bulls hit the jackpot in the lottery and used the golden ticket to grab Derrick Rose with the No. 1 pick.
Poll
Loading…
Do you expect the former Sheraton Hotel in Gary to be demolished by the end of the year?