The Doors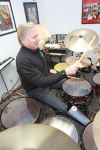 Beat Boogie Quality Drums owner Steve Crabtree has loved drums since he was a young boy and heard Sandy Nelson's classic "Let There Be Drums" for the first time.

Former Doors drummer John Densmore keeps the spirit of Jim Morrison alive in his new book, "The Doors Unhinged: Jim Morrison's Legacy Goes on Trial."

Poll
Loading…
Should Porter County Auditor Bob Wichlinski adjust wages to reflect cross-training in his streamlined office?