The Meadows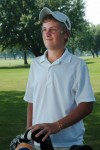 BLUE ISLAND | Nobody was better than Bobby Sloan Saturday afternoon at the Mt. Carmel Invitational at The Meadows, where the Caravan senior shot a tournament-best 66.

Bob Hambric is gone, but Tim Bankston wants to make sure his former high school coach is never forgotten.

Poll
Loading…
Has your family been affected by drug abuse?